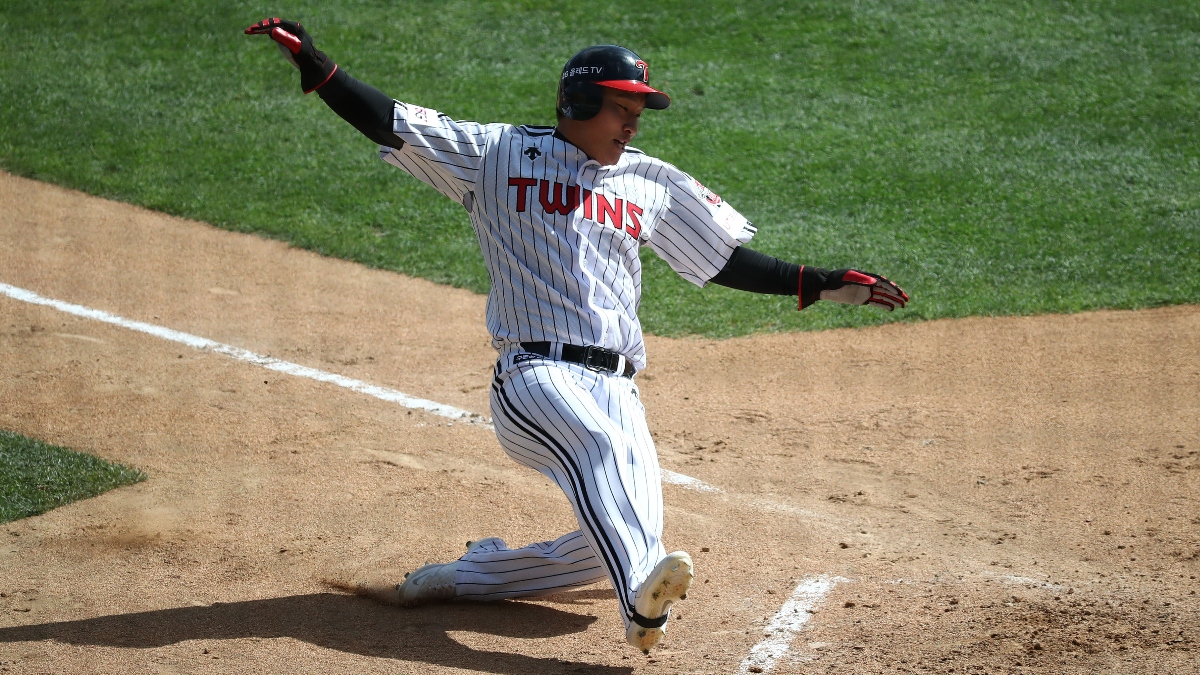 Pictured: Kim Ho-eun
The 2020 KBO League regular season begins on Tuesday in South Korea, one month, and one week later than initially scheduled. Still, its start provides hope that, eventually, Major League Baseball and Nippon Professional Baseball in Japan can get back to the field. The epidemic curve in South Korea, Japan, and the United States has been much steeper than in Taiwan – which has recorded fewer than 500 cases of Coronavirus in total, and playing professional baseball without issue since April 11.
Thus, the KBO is going to serve as a model, to some degree, for both how to get other professional sports leagues back up and running safely, and for how MLB can go about completing its 2020 season. The KBO will play in empty stadiums, all players and staff will enter and exit through one door and have their temperatures checked daily, and stadium staff will be wearing masks and gloves at all times. If a player shows symptoms at any point, they will be quarantined, and the league will likely shut down for three-weeks at minimum. There are also strict policies and precautions against both spitting and high-fiving.
Unlike MLB, the KBO is going to try to play out its entire 2020 schedule – helped in part by canceling their All-Star game and planned Olympic break, and by deciding to play postseason games after mid-November inside of a neutral-site domed stadium. Other professional leagues will surely be watching and taking notes. From my perspective, I'm excited to have more live baseball in my life and to be able to handicap and project five games for the Monday-Tuesday overnight shift (1:00 a.m. ET).
So, let's jump into this wildly entertaining league, replete with character, personality, talent, and of course – inhumane, unholy bat flips – but so much more too.
KBO Rules and Information
You might have some questions about the KBO. Hopefully, this section provides those answers:
Who are the active clubs?
Doosan Bears
Hanwha Eagles
KIA Tigers
Kiwoom Heroes
KT Wiz
LG Twins
Lotte Giants
NC Dinos
Samsung Lions
SK Wyverns
How long is the season?
144 Games with a balanced schedule – each club will play the nine other clubs 16 times.
How do the playoffs work?
The top five teams qualify for the postseason, which then turns into a ladder tournament.
In the Wild Card round, the fifth-place team faces the fourth-place team in a three-game series but begins with a 1-0 lead in that series; meaning that the fourth-place team advances with one win or a tie (after 15 innings), while the fifth-place team must win two consecutive games to progress.
The Wild Card winner then faces the third-place team in a best-of-five series, before the winner of that series faces the second-place team in another best-of-five.
The winner of the semi-final faces the first-place team in a best-of-seven championship, KBO Korean Series.
After the Wild Card round, playoff games ending in an official tie (after 15 innings) are entirely replayed.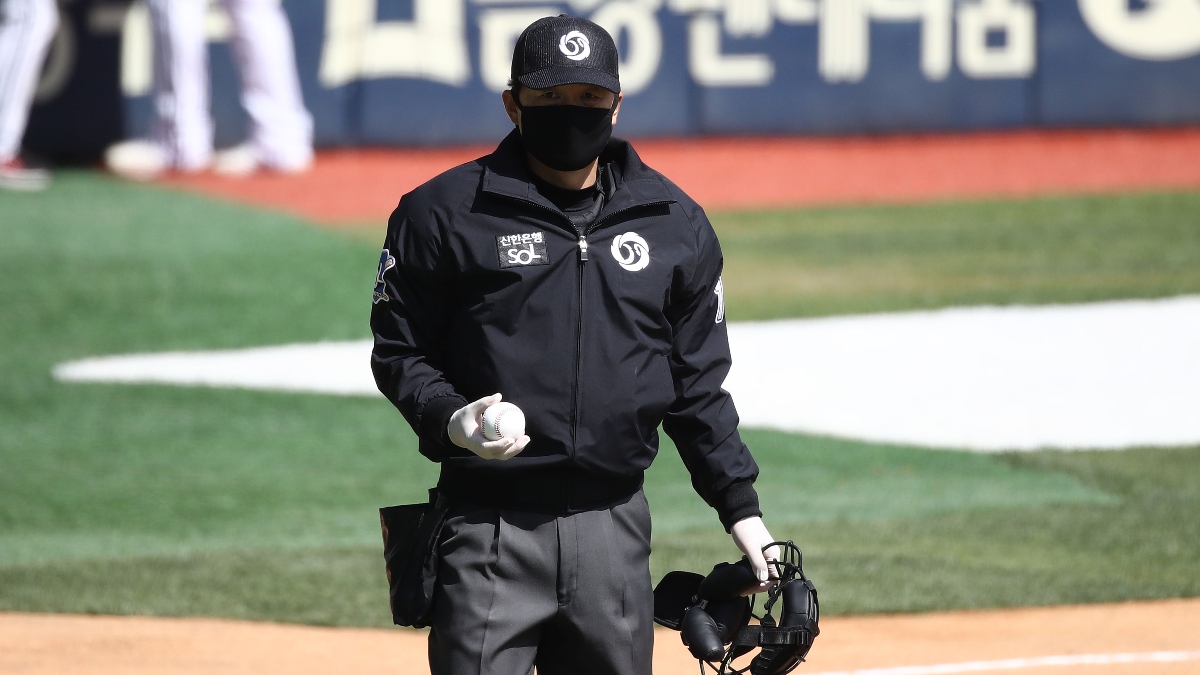 The KBO will begin its regular season on May 5. Chung Sung-Jun/Getty Images.
Do pitchers hit?
No, the KBO uses a universal Designated Hitter.
Are there any weird rules for betting purposes?
Like in the CPBL, regular season KBO games are an official tie after 12 innings. Moneyline wagers would be refunded. Spread and total bets would likely grade, but rules depend upon your local sportsbook.
How large are the rosters?
28 players, with 26 active on game day
Are there foreign player limits?
Yes, teams are limited to three foreign players per roster, two pitchers and one position player. For the first time this season, all three are allowed to play in the same game.
Would I know of any former MLB talent that currently plays in the KBO?
Some familiar Korean players who recently left MLB teams include
Byung-ho Park
(Kiwoom Heroes),
Seung-hwan Oh
(Samsung Lions),
Hyun-soo Kim
(LG Twins),
Jae-gyun Hwang
(KT Wiz) and
Dae-Ho Lee
(Lotte Giants).
You'll undoubtedly recognize some names from the
foreign player list
:
Are any former KBO stars now in MLB?
You're probably aware of 2019 MLB All-Star and ERA leader
Hyun-jin Ryu
, who signed a four-year, $80 million deal with the Toronto Blue Jays this offseason.
He dominated in the KBO from 2006-2012 for the Hanwha Eagles as a seven-time All-Star, becoming the first player to win the Rookie of the Year and MVP awards in the same season, while also winning the pitching triple crown in 2006 (18-6, 2.23 ERA, 204 K's – in a league with an average 3.58 ERA).
Fellow southpaw starter
Kwang-hyun Kim
, the 2008 KBO MVP, signed a two-year deal with the St. Louis Cardinals this offseason after a long tenure with SK Wyverns (2007-2019).
The two other current South Korean players on MLB clubs, Shin-soo Choo and Ji-man Choi, both signed with the Seattle Mariners out of high school.
Eric Thames
was so prodigious in the KBO (42 doubles, 47 homers, and 40 steals with a .381/.497/.790 triple-slash line in 2015) while posting a 1.172 OPS over three seasons that NC Dinos fans just referred to him as "God". Thames returned stateside in 2017 with the Brewers showing a matured plate approach and launched 31 homers with a .877 OPS – though he has been hampered by a thumb injury and is now into his thirties. It's a wonder to think what the current Washington Nationals infielder would have done in that peak age-28 season at the MLB level, had he only spent the one year in the KBO.
Merrill Kelly
, who was a solid back-end starter for the Diamondbacks last season, and
Josh Lindblom
, who signed a three-year deal with the Brewers this offseason, both improved their stuff and stock after moving to the KBO for multiple years.
Lindblom was the ace for the reigning-champion Doosan Bears in 2019, going 20-3 with a 2.64 ERA, 24.4% strikeout rate, and a minuscule 3.8% walk rate – which is Zack Greinke level command (23.1%, 3.7% respectively in 2019).